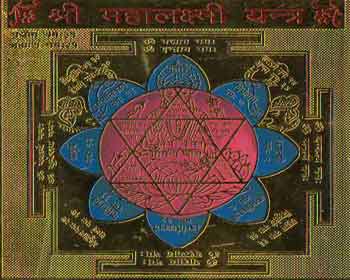 Note : These Proven Yantra have been established for the welfare of all beings, If you have any doubt in your mind, Or you do not believe in these devices, than you close this page, But do not ridicule and disrespect these Blest Yantra.
Never take anything from any one for free, make sure you make some monetary compensation for it. Wealth earned through deceit and unethical means will never be accumulated. It would be wasted despite best efforts to retain it.
The amount would turn into a debt many folds and would always be an obstacle in the way of finances and prosperity that could have been accrued by the persons own, sincere efforts.


Every person should ensure that as a ritual every month, from his earnings, whatever amount he can spare, he should spend towards charity or religious obligations. This will earn him the blessings of Goddess Lakshmi and he and his family shall always be happy and prosperous and his endeavors shall never be wanting of finances.


Women have always been considered as embodiments of Goddess Lakshmi, as such all women should be regarded with complete respect and honour. Running the house-hold should be left to the lady of the house and no nick-picking should be done in her way of handling domestic issues. Spare a portion of your earnings for your parents.
Whenever there is any auspicious festivity in the house, make sure that the ladies and the elders of the house are in the fore-front. Always greet your mother, wife, sister, and daughter; with gifts on their birthdays, anniversaries and special occasions .By following these simple rules, you shall always have the blessings of Goddess Lakshmi.


If desirable of Goddess Lakshmi's blessings, the head of the house should refrain from consuming white edible items at dinner time, like, Rice, Curd, Milk, Radish, etc. As far as possible this simple rule should be followed lifelong to ensure financial stability and strength.


To increase and stabilize your financial status……….take 125 gms Basmati Rice and 125gms Candy Sugar [Mishri] and put them on a white handkerchief and make a small bundle….pray to Goddess Lakshmi and seek forgiveness for all your mistakes and pray to her to be a constant occupant of your house…..after that, immerse the bundle in a flowing river……the financial status shall strengthen…….gradually.


During the "Navratras" [the period of the nine nights dedicated to the nine embodiments/ avatars / personalities of Goddess Durga]; for all the nine days, ritually, recite the "Shri Sookt" ….this shall definitely bless you with the benevolence of Goddess Lakshmi.


The place of worship and the locker in the house should always have a red cloth-spread and every evening, the lady of the house should light 3 incense sticks at both these places and pray with folded hands.


Every fortnight of the full-moon, prepare a mix of sago [sabudana] in milk and sweeten it with candy-sugar [Mishri]….offer this preparation to Goddess lakshmi and pray for a rich, stable and prosperous life and then all family members in the house should partake this preparation as the 'Prasad'.


To augment your income, ensure that you favor your parents with a gift at least once, in 6 months.


Plant a basil plant in your home garden or pot and every evening light a ghee filled mud-lamp near it……..Goddess Lakshmi shall never leave the house and her blessings shall always be bestowed on the members of the house.

Next Page
For sighting of this divine 'Yantra' and to have your personalized prayers and chanting on this site, and to know useful tips and solutions for attaining, Quick relief from ailments and a disease–free home